Bright Colored Wunder Dog Bandana Helps Save Dog
Keeping you and your dog easily visible at night is Dog Safety Lesson #1 and WACKYwalk'r products are designed with that in mind. Our high visibility Leashes, Brightly colored Balls, and the New Wunder Dog Bandanas are all available in bold bright colors that are easier for motorists to see at night. Helps keep your dog safe. Great gift idea for dog lovers.
Here is a real letter we just received from a customer:
So kinda sad story, but ends well. So just hear me out.
Just about two weeks ago I was in a wicked car accident that left me unable to move from either my bed or the couch. I had an amazing support system coming over everyday when JD was off at work. Everyone was so kind and took care of not only me but my animals too, including my baby girl, Pickle. Last Friday my one good friend came over and let pickle out, asking first if she needs a leash etc. With my response of no she just goes out. (She never goes on a leash unless we go somewhere) all our friends and family know how good she is and how she will never ever run off bc she is so we'll trained.
So, of course on a day where I am unable to do anything my friend let's her out and pickle bolts after a deer into the woods. She was gone, my friend yelled for her and she didn't come back. My friend came inside and told me and I mustered up the strength to get off the couch thinking she'd come to my command.... nothing. So I started panicking walking down my quarter of a mile drive way, no hyperventilating, over doing myself as I was in no condition to do anything. Make it to my neighbors house begging for help (quite literally) my neighbor mentioned to me that a man was just at her house asking if she lost a dog. I asked her was it a black dog with a bright green bandana? She said yes. I turn around and a truck pulls in the drive way as I physically drop to my knees since I can no longer stand due to my crash. My neighbor asked, is that your husband? And I answered no.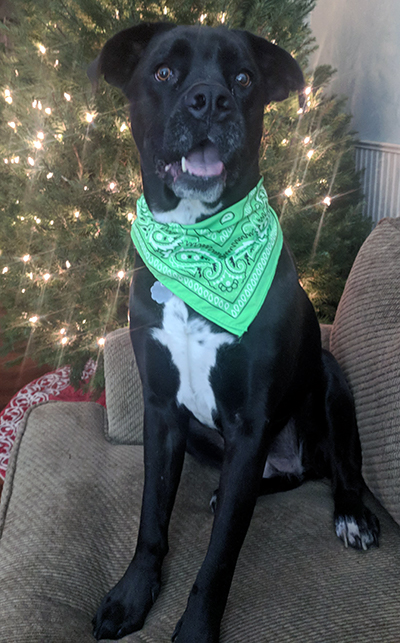 The man that came out was the man that had previously asked if she lost a dog. He had come back to give his number to her in case anything came up. I heard pickle barking in the truck and just started crying saying her name. The man told me she had fallen out of the woods and on to Rt 63. He had to slam on his breaks to not hit her! It was night time and pickle is an all black dog. The man said he saw her from a glimpse of his headlights on her bright green bandana.
Mike, I can't thank you enough for making such great products with such bright colors. That bandana saved my dog's life! If she weren't wearing it who knows that he would've seen her.
She is not injured and is happy and alive.
Thank you for all you do & keeping my pup still in my life
Xoxoxo Ashley