Choosing the Best Dog Toy for your New Puppy
Choosing the perfect dog toy for your new puppy can be a daunting task but the WUNDERBALL makes it easy with 3 sizes and lots of fun colors to choose from. This is the best fetch ball for dogs and puppies and is different than any other pet product on the market.

Puppies are notorious chewers and it's important to find a dog toy that is durable and hard to destroy. The WUNDERBALL is made by hand and is virtually indestructible. Made from a unique All-Natural rubber the WUNDERBALL floats and also features a WACKY bouncing action that is unpredictable keeping your dog engaged and entertained.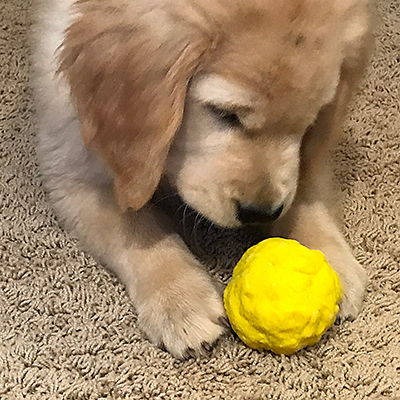 It is never too early to start teaching your dog how to fetch and with the WUNDERBALL you'll both have fun whether you are playing fetch in the yard or in the lake. Another benefit of the WUNDERBALL is that it helps clean your puppies teeth each time you play and that is important for maintaining healthy teeth and gums for your dogs entire life. You have to bounce it to believe it but then you'll understand why the WUNDERBALL is quickly becoming the most popular fetch toy for dogs and puppies of all ages, breeds and size.

You can see from the photo above it didn't take Daisy (Buffalo Grove, IL) very long to decide which toy she liked best and to become an official WUNDER Dog. If for some reason your dog doesn't love the WUNDERBALL you're still covered because all WACKYwalk'r products have a 30 day satisfaction guaranteed money back refund policy. Shop WUNDERBALL Now for the best fetch ball for your dog or new puppy.